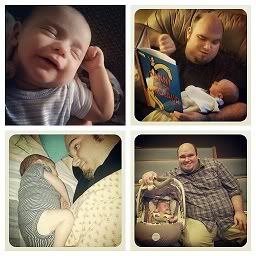 my sweet husband became a first time daddy just over three months ago. before we had noah he seemed slightly nervous about things like holding him and changing his diaper. i think to his amazement the role of "daddy" fit like a glove. he was the first one to change noah's diaper after the emergency c-section that neither of us anticipated. he also snuggled our sweet baby like an old pro each day and night that we spent in the hospital & everyday after.


sweetheart, thank you for taking care of me and baby noah. you work so hard for us so that i am able to stay home and care for him. you are a blessing in our lives each and everyday and i am so thankful for you. i love sitting with you and making "a-goo" & "ooooooo" noises at noah, hoping like crazy that he'll make them back (it's beyond adorable when he does!) and thank you for giving me much needed sleep at night when you can by taking the late shift, we both appreciate when i feel sane haha


i look forward to so many more years with you. and many more experiences like the ones that we share everyday with noah, they're all so special. from the seemingly mundane to the awesome and exciting times when he does something he's never done before. i wouldn't want to be on this beautiful journey with anyone but you. i love you.